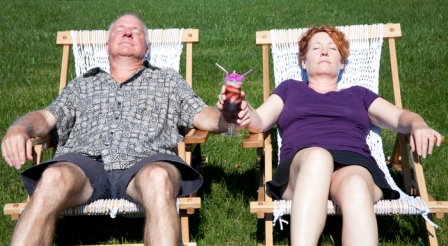 Planning a vacation but worried about overspending? While having fun and saving money aren't two terms that necessarily go hand-in-hand, enjoying a much-needed vacation with the family while sticking to a set budget isn't all that hard if you take the right approach.
1. Things to Keep in Mind
While the term 'super cheap' is subjective, it's absolutely, positively possible to enjoy your vacation without going broke. Here's what you need to keep in mind:
Where to Stay:
Look for places that will both be fun for the family and not overly expensive. The best locales, especially when it comes to budgeting, are ones where you can stay for less. Look for cheap lodging accommodations in the area, and check beforehand to see if you have any friends near your destination. Or, if you're looking to skip lodging prices altogether, then camping is another great option.
What to Do:
You're sure to find tons of cheap activities the whole family can enjoy (especially during the summer), but they are all contingent on where you choose to go. Do some research and find out what's happening in the area. If you are going with a group of people, they might have a few ideas of their own.
How to Get There:
Buses are an extraordinarily cheap way to get from place to place, especially if the trip is planned far in advance. Trains are another great alternative to the gas-guzzling road trip. Whatever you decide to do, try to minimize your gas spends as much as possible.
2. Enlist the Help of Free Apps to Keep Your Spending in Check
We all know how difficult making and sticking to a budget can be, but with the help of a few mobile apps, it doesn't have to be! With free apps like Mint and Check at your disposal, you'll never have to worry about going over your set budget again. We recently wrote an article about our top five budgeting apps. Take a look here.
3. Save Money By Dining in Instead of Eating Out
Since paying for food is among the top three biggest expenses for any given vacation, packing your meals in advance is a great way to save. In addition to brown bagging your lunches, grilling is another excellent way to make a delicious meal that's affordable, nutritious, and delicious. A number of tourist accommodations have public grills in or near their vicinity, so take advantage! Instead of spending $40 on lunch for a family of four, buy a few hot dogs and get that grill going!
4. Ditch the Plastic; Stick to Cash
One of the best ways to curb unnecessary spending habits is to rely on cash instead of credit. When you go out, be sure to bring cash with you—that way you've automatically given yourself a set spending limit. Since we all know how easy it is to make an impulsive purchase with a credit card, try to limit your credit card use. Make a daily budget beforehand, and then take that amount with you (in cash, of course) when you leave your room.
5. Plan a "Staycation"
If you're on the fence about taking a vacation this year, why not stay home instead? A staycation still counts as a vacation; the only difference is that you're already where you want to be! The key to an excellent staycation is to plan everything out. Instead of spending a week or two lounging on the couch eating Cheetos, make the most of your time off by being active. Look into museums and local events and happenings that the whole family will enjoy. Aside from not having to worry about the trip itself, the best part about a staycation is all the money you're able to save on gas, air fare and accommodations.
Planning a vacation in the not-so-distant future? How are you planning to save? Give us a call to discuss.