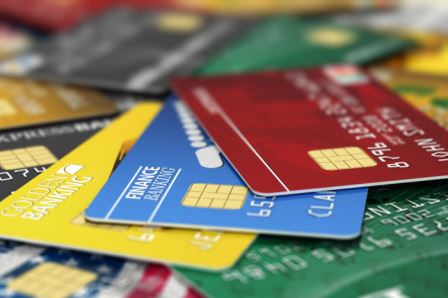 Thinking of applying for a new credit card? The average American household owns at least four credit cards, and with an average credit card debt of almost $5,000, most credit cards are carrying a balance of over $1,000.
Although having a credit card can help improve your credit, they can also hurt it. So, before you decide to apply for that credit card, take a look at eight things you should ask yourself first.
1. Why are you applying?
The first question you should ask yourself before applying for a credit card (or any major purchase) is "Why am I doing this?" Are you trying to build your credit, or are you simply wanting a new line of funds so you can go out and buy that new flat-screen TV? If it's to pay for something that you can't afford, you're getting a credit card for the wrong reasons. Whatever the case, make sure your motives behind applying are in your best long-term interest. Once you've made your reasoning clear, you can start searching the card that's right for you.
In our recent interview with financial planner Carl Richards we talked about the importance of taking a moment to reflect on why you're making a particular purchase. Take a look at our interview here.
2. What is your credit score?
After taking the time to figure out why you're applying for a new credit card, your next step should be checking your credit score. Make sure you understand how a credit check may affect your score, as well as how credit scores are calculated before you dive in.
Knowing what kind of credit you're working with will help you get a better feel for the various rates you're likely to receive, and it will help you gauge whether or not a particular offer is actually worth it.
3. What's your card's APR?
After you've done all the preliminary research on the why and how, the next thing you need to check is the APR (annual percentage rate). Your card's APR is the annual rate of interest. In other words, your APR is the amount of interest you'll be charged for any balance not paid in full each month.
In order for you to get the best credit card possible, it's important for you to do the research. Since your card's APR is directly related to your credit score, knowing your score will give you a better idea of what kind of offers you're able to get. Be sure also to read reviews of the particular credit card you're applying for beforehand.
4. What's your card's grace period?
In addition to checking your card's APR, it's also important to check your card's grace period. First, does your card have one? If so, how long is it? A grace period is that small amount of time between the end of your card's billing cycle and the date your payment is due.
By paying your payments in full during the grace period, you'll be able to pay your debts interest-free! While grace periods vary between different types of cards (some may not even offer them), it never hurts to check beforehand to see if your card has one.
5. What's your credit limit?
Knowing your card's credit limit beforehand will help you stay well below it. Regardless of how you plan on using your credit card, sticking to a comfortable level well below your card's limit is important. As a major part of your credit score is your debt-to-income ratio, make it a priority to stay within the limits of your line of credit. Having a good debt-to-income ratio looks good in the eyes of lenders, and it's a great way to maintain a healthy credit score.
6. Does your card offer any promotional rates?
Most credit cards offer a variety of different promotional rates when you sign up. It's extremely important that you know what the rates are, how long they last, and what your card's default rates are. One of the biggest mistakes people make is confusing their card's promotional rate for their actual interest rate. But while most cards will notify you when your promotional period is up, it's still important that you read the fine print yourself ahead of time.
7. How does this card compare to others?
In addition to looking at your card's numerical statistics, it's also important to look for a few other factors, such as hidden fees, cash back options, and whether or not you can enroll in online bill pay.
Before you set your sights on a particular credit card, look around for the best option. Doing a little research today could help you avoid a whole world of financial trouble tomorrow.
8. Does your card offer any unique benefits? If so, what are they?
Lastly, what kind of deals does your card offer? Most credit cards offer some type of cash-back reward system or other incentives like bonus miles and free tickets to monthly events. Though these shouldn't be your primary criteria for determining whether or not a particular credit card is the one for you, they're definitely worth keeping in mind.
Have we left anything out? Weigh in with your thoughts below.