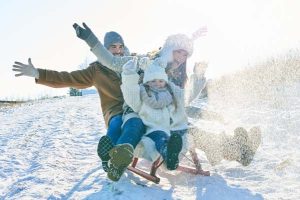 Affordable Ways to Enjoy Winter Activities with Your Family
Winter can be cold and dreary, but beating the winter blues and having winter fun doesn't have to be an expensive endeavor. Many great outdoor winter activities are free, but if activities outside in frigid temperatures are not your thing, there are plenty of indoor activities that are either inexpensive or free as well.
Keep reading to find fun ways to enjoy the cold weather without sacrificing your family's frugal lifestyle.
Winter Wonderland: Having Fun in the Snow (for Free!)
If you live in an area where winter means a lot of snow, there are several outdoor activities that you can enjoy for free. Playing in the snow offers hours of fun entertainment from making snow angels to snowmen. If there's enough snow, you can even build a snow fort or an igloo to spend a little time in the warmth it creates alongside your family.
Gather up the family and take a sled if you have one to your nearest neighborhood hill and have hours of fun sledding. If you do not own a sled, there's no need to invest in buying one, there are many different items around the house that work just as well. Repurpose a yoga mat, a trash can lid, an air mattress or even a trash bag for your sledding fun. Snow tubing is another possibility for wintertime fun if you have any kind of inner tube or a summer pool toy and a great nearby hill to sled on.
Enjoy Winter Sports and Inexpensive Fun Anywhere
If you live somewhere where snow is less common, you and your family can still enjoy spending time outdoors by taking a hike. Explore a new park in your town or neighborhood. Many cities and counties have many parks and nature preserves that are set up for nature exploration with well-marked paths and plenty of nature to be found. Geocaching is a great family activity that can be done in any season. While the app costs a small amount of money, it provides many free hours of outdoor treasure hunting using GPS-enabled devices.
Albeit dangerous, ice skating can be an inexpensive way to take the whole family out for a fun activity. Depending on the facility, it might cost between 10 and 20 dollars to rent a pair of skates and a helmet. Many ice rinks have no admission fee and are open during daytime hours.
Make sure the ice is thick enough — don't go trespassing onto a random frozen pond or lake that you aren't 100% sure about — this can get you into trouble and get you or your children seriously harmed.
Many museums offer free admission on specific days of the week or month. Check with your local museums to find out which offer free days and when for a great, educational and fun way to spend an afternoon. If you can't make it to the museum on their free day or they do not offer one, many museums and parks offer memberships which, for a larger upfront fee, allow you and your family to come back and enjoy the experience an unlimited number of times.
The winter weather doesn't have to keep you from enjoying yourself or from spending too much money. This list of inexpensive activities can help you navigate the winter months without straying from your budget. Plus, enjoying a day of free or low-cost winter fun may even help kick-start a family conversation about responsible spending!
Getting Help with Debt at CreditGUARD
If you're currently facing a debt situation where repaying your credit cards is becoming impossible, you're not alone. CreditGUARD has helped thousands in your situation. To learn more about debt management and credit counseling options, call CreditGUARD today to speak to one of our certified credit counselors at 1-800-500-6489.