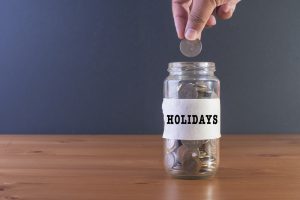 Holiday gift shopping can be a full contact sport. In 2016, American consumers spent $655.8 billion. This year, get a head start on your holiday shopping by putting together a strategy that'll help you not only survive the holidays but also save money in the process.
Determine your budget.
Sure, there's nothing sexy than talking about budgeting when it comes to gift buying, but it's the most important thing you can do toward getting prepared for this holiday season. How many years have you gone way over budget when it comes to gifts? How many gifts, when looking back, do you have strong memories of?
  Determine who is on your list.
When you're on a budget, you probably can't commit to getting a gift for each of your third cousin's seven kids. That's okay!
Another way of going about planning your holiday gifts is to draw names. That way, each member of the group gets something, and nobody has to commit to buying a hoard of gifts.
Learn about what adds value to the person.
Nothing's worse than getting three crock pots for Christmas! Have meaningful conversations with your loved ones so that you can be sure your gift adds value, and vice versa. Maybe they really need help replacing their refrigerator and could use some gift cards to help with the cost.
Consider gifting experiences or consumables.
Sometimes, the best gift is an experience or consumable like a spa day, music lessons or a really good bottle of wine. Other experience gifts include museum memberships, specialty coffee subscriptions and concert tickets. Experience gifts have more potential to create lasting memories, which, in turn, make the gift more meaningful.
If you are going to purchase gifts, do your research.
Make sure that you make the most informed purchase you can. Use online shopping tools to find coupons or other deals. Groupon and LivingSocial are great places to find experience gifts. Etsy is a great resource for finding personalized or unique gift ideas. Cyber Monday is a great time to buy electronics online. If you do want to brave the storm of shoppers, make sure you have a strategy in place for dealing with events like Black Friday. Retailers often create a sense of urgency to make you buy more stuff. Make a list, check it twice and buy only what you need.
Budgeting is the beginning and end of holiday shopping. If you'd like more information on ways to budget and save or educational information about credit and ways to get out of debt, visit a trusted nonprofit organization like CreditGUARD of America for more information or to speak with a certified credit counselor.