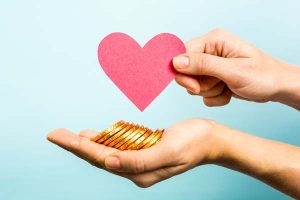 Budget Alternatives to Traditional Valentine's Day Gifts and Events
Celebrating Valentine's Day is important to many people. Companies and advertising can entice you to spend liberally on expensive diamond gifts and extravagant dinners out at upscale restaurants. Having a budget and sticking to it doesn't mean you have to skip out on a meaningful holiday filled with romance and memories. Avoiding excess spending doesn't just have to mean homemade gifts and heart-shaped pizza either, unless that's just what cupid ordered.
Save the "Date"
If what you really want is to bring your Valentine a bouquet of roses and dine at a five-star restaurant, try celebrating a few days before or after February 14th. Flowers can be double the price on Valentine's Day and restaurants often charge more not just on the day, but the few days surrounding the holiday. Having your Valentine's Day celebration on a day other than February 14th can allow you to have your perfect romantic night and save you money at the same time. Another way to save money is to pre-order your flowers which can make your romantic bouquet significantly cheaper than buying the day of. Alternatively, you can send (or even make) edible bouquets which can double as desserts.
Be the Chef
Whether you are a great chef or a beginner with limited cooking skills, it is easy to find blogs that cater to cooking on a budget. Many budget cooking blogs offer recipes you can make inexpensively at home with results that feel like a five-star meal. These sites often provide accompanying video tutorials to make things even easier. If you're looking for a nice wine pairing to go with your homemade meal, go with a sparkling wine from California, an Italian prosecco or Spanish cava as a cheaper alternative to champagne. Getting dressed up as you would if you went out can make the occasion seem just as romantic and significant as if you went to a fancy restaurant. If, however, going out to eat on February 14th is a must, you can always go for a more budget-friendly brunch or lunch, rather than a more expensive dinner.
Free or Pretty Close to Free Alternatives
Many people enjoy sentimental gifts. If you are crafty, you can hand-write a love letter letting your sweetheart know precisely what you love about them and what their presence brings to your life. One way to make this even more thoughtful is to have the letter sent from Loveland, Colorado through their "Loveland Remailing Program" where your letter will be stamped with a special message and sent to your loved one. If sending a letter off to more than a mile above sea-level seems to far, you can always leave love notes hidden around the house in places you know your Valentine will find them.
Other budget-friendly alternatives include signing up for a dance class, going on a picnic to a particularly beloved spot, or doing chores around the house. Shopping for one joint item for both of you that fits within your budget is another great alternative to traditional gifting that can help save money on this romantic holiday.
Planning a romantic holiday can be very stressful if you can't get your mind off unpaid credit cards or medical bills. If you're behind on your credit card payments, CreditGUARD can help. Learn more about our debt management and credit counseling options today by calling us at 1-800-5000-6489.