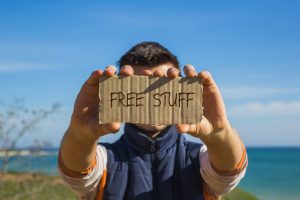 So you've probably heard of TINSTAAFL. If not, you've heard what it means–"There's no such thing as a free lunch." We couldn't agree more. However, this is an article about free stuff, so there must be some way to have your cake and eat it, too. We've rounded up a few recommendations for ways to save money, and in some cases, get stuff for free.
Legitimately free stuff
Curb alerts
Check online posts or drive around for free stuff that people literally place on the curb. This can be a great way to get wood pallets for art projects or find old furniture that's in need of a little TLC. If you're a DIY fan, this an ideal way to feed the habit.
Craigslist
Similar to the notion of curb alerts, people often post unwanted or unneeded items on Craigslist. These items range from appliances to clothing to furniture. This can be a great option for young people trying to furnish their first apartment on a shoestring (or no string!) budget.
Freecycle
This online tool is a great way to find free stuff, and it's also a space to place want ads for things you're looking for. It's a communal space, and it's ideal for bargain hunters and budget-loving frugal folks alike.
Libraries
Libraries continue to be an integral part of local communities. Your local library is a great place to get free information, check out books, parking passes to state parks, DVD's and music, and attend free classes. Some libraries will even let you check out tools. Visit your local library to learn more!
Museums and parks
Inquire with your local parks and museums about free admission days or free parking. Chances are, some are free every day. As mentioned above, some libraries will check out passes to these institutions, so make sure you're in the know about free experiences in your area.
Meetup groups
Want to take up a hobby or meet people with similar interests? Visit any number of free online sites that host spaces for meetup groups. You never know who you'll meet or what you might learn.
Foraging
Looking for a way to save on your grocery bill? Try foraging. Be sure that you're not trespassing and (accidentally) stealing another man's fruit. Check out http://fallingfruit.org/ for places to forage near you.
401K contributions
Make sure you understand all your employer benefits. Some companies will match your 401K or other retirement account deposits up to a certain percentage.
Class action lawsuits
Research current class action suits to learn whether you may qualify for compensation related to your use of a product or service involved.
Commuter benefits
Some companies and local organizations in cities will offer commuters rebates or incentives to take public transit or commute using ride shares.
Free advice
Sure, you probably know plenty of folks willing to dish out free advice, but how about legitimately helpful advice on ways to save money and get out of debt faster? For free articles on budgeting and other financial topics including ways to deal with debt, visit CreditGUARD of America to learn more.
What are some of your favorite ways to save? Tell us in the comments section below!