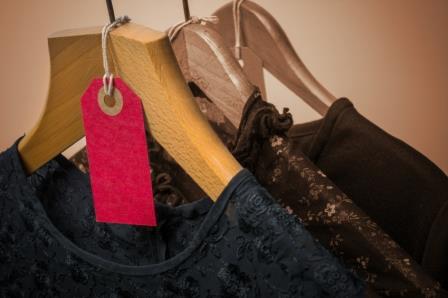 Searching for ways to look your best for less? With spring right around the corner, now's the perfect time to find the best deals. Though the words 'fashion' and 'budget' rarely go hand in hand, with some gumption and a little know-how, you can look great for a fraction of the cost.  Great deals don't just fall out of the sky, you know. The first step to finding a steal is knowing what you want and knowing where to look. With that in mind, the two best places to find fashion steals are thrift and consignment stores. Let's start by making the distinction between the two:
Thrift and Goodwill Stores:
Thrift stores and goodwill shops accept donations and usually sell all clothes—regardless of brand name—at a regulated price. These shops are usually not-for-profit, meaning a portion of their funds goes to various charities. Thrift stores don't always thoroughly inspect their clothes, so make sure you take the time to check for any holes, tears and/or stains.
Consignment Stores:
These shops usually carry higher-quality merchandise and buy their inventory directly from their customers. They also usually offer more big-name brands and tend to price items based on worth.
Depending on your preference, either one is a solid way to find great bargains. Though Goodwill stores will be cheaper, the quality and brands of their clothing may not be on the same level as a consignment shop. On the other hand, a consignment shop may have better-quality clothes, but they'll be more expensive.
Now that you know the difference between the two, here's how you can find the best deals.
The Art of Thrifting
Though most people are already aware of the bountiful bargains thrift shops have to offer, what they don't know is how they can maximize their experience by getting the perfect find. Finding great deals at a thrift store is an art form; everything has to be carefully planned and executed. Since the merchandise at thrift stores is always changing, it's best to go once every few weeks.
Tips to Keep in Mind
When browsing used clothes, pay attention to the brands and styles that you prefer. Be on the lookout for brands you like, and, once again, be sure to properly inspect any piece of clothing before deciding to purchase it. Here's a good rule of thumb: Since browsing thrift store racks can sometimes feel overwhelming, if you see something you really like, kind of like, or maybe kinda-sorta like, grab it. You can always put it back later.
Bargain Days
Another thing to keep in mind are thrift stores' bargain days. As most thrift stores tend to have a surplus of items, there's usually one or two days a week where they offer generous sales. Sometimes they'll offer everything half off, and sometimes they'll offer specific items at a generous discount. Make a note of when a particular store has its sales and learn to plan your shopping around those days.
Also, remember to bring cash with you, as some smaller thrift stores are known to only accept paper tender.
Take a Load Off
In addition to taking advantage of bargain buys and constantly changing merchandise, thrift shops are also places where you can literally dump off your older clothing. Most consignment shops will offer you cash or credit for your donations, but keep in mind that the more expensive the shop, the more they'll analyze your donations. Either way, it's a great way to make some easy cash and open your wardrobe. Open up some space and make money at the same time? It's a win-win situation.
Plan Ahead by Planning a Budget
Now that you know how to find the best deals, start planning a budget ahead of time. Thrifting can be tricky: sometimes you'll find a surplus of deals; sometimes you'll find nothing. Whatever the case, plan ahead by making sure you have a set budget in place. A proper budget will make it easier for you to choose what you should buy and what to hang back on the shelf. A budget will also keep you from overspending.
Armed with these tips, you should have no problem finding great deals. For more helpful money-management advice, head over to CreditGUARD's educational resources page.