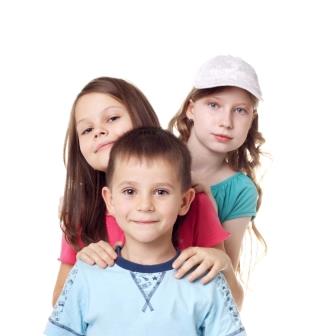 Siblings compete over all sorts of things. From seconds at dinner to wrestling over the attention and admiration of their parents, siblings are always at odds with each other. And though we all know how birth order has some sort of impact on one's personality, did you know it can also determine how much money someone will make?
That's right! According to a survey conducted by CareerBuilder, a person's birth order and their net worth often go hand in hand.
Let's look at how birth order can determine the relative success of each family member.
Firstborns: First Up, First Ahead
The early bird may get the worm, but what about the "early" child? Since they have a head start on their siblings, first-born kids tend to get more support and adoration from their parents during their formative years. This tends to foster an extroverted, ambitious personality that's more likely to be rewarded in an increasingly competitive economy. Relative to their younger peer, firstborns are more likely to break the $100,000 salary barrier and hold positions of senior leadership within the corporate structure.
Second Children: Always Stuck in the Middle
Many middle children often feel overshadowed, and as it turns out, feel like they can't get any love, and some may be right. As they age, they're often overshadowed by their more successful older peers and may be expected to act as go-betweens for their other siblings. This makes them a good fit in nonprofit or government jobs that require a healthy dose of selflessness, but it sure doesn't support their earning power: According to recent studies, middle children generally earn less than first or last siblings.
Youngest: Last But Certainly Not Least
You'd think last-born kids would be hurt by the indifference of their hardened parents, but studies actually show that younger children do quite well relative to their middle peers. That said, their paths to financial success aren't as conventional as those of their first-born peers: Many lastborns take up artistic pursuits or devote themselves to athletics. Others invest their native creativity into business ventures that hold out the promise of wild success — much to the chagrin of their cash-strapped middle siblings.
What about Only Children?
So what about only children? Although they tend to hew most closely to the first-born pattern, only children may suffer from self-centeredness and perfectionism. While these aren't necessarily bad traits for success-minded people, they leave only children vulnerable to crippling disappointments.
Beating the Birth Order Odds
So is birth order destiny? The short answer is no. History is rife with examples of wildly successful middle children, including highly visible — and wealthy — entertainers like Madonna and David Letterman, not to mention historical figureheads like Abraham Lincoln and John F. Kennedy. And by the same token, plenty of firstborns struggle with the pressure of being first, and financial success proves elusive for some of the most creative lastborns.
While the findings are interesting, they're far from concrete. If you're worried about your place in the mix or wonder how your own kids will turn out, it's best not to get too caught up in the "birth order lottery." After all, there's no substitute for ambition, foresight, and solid financial planning.
Looking for more useful information on money and credit management? Head on over to CreditGUARD's money management page for more financial tips.