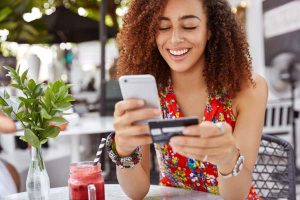 Making a Plan to Avoid Overspending and Unnecessary Shopping
We all know that the best way to make sure you don't overspend at the grocery store is to make a list of your grocery needs that fits your budget. Making a list not only provides an easy-to-follow plan to make sure that we don't overspend, but it also provides a way to avoid unnecessary spending.

One place we seldom think to make sure we don't overspend on unnecessary products, goods and services is through our smartphone apps. It may seem irrelevant to plan for spending on smartphone apps since we have already planned and accounted for specific expenditures like clothing, gyms, grooming and beauty products in our monthly budgets.

However, most of the apps and websites we visit every day have built-in pitfalls and traps meant to circumvent our more rational thought processes to get us to make purchases on a whim.
Understanding Smartphone Apps
There are many different websites and phone apps that offer deals that seem like they are a great way to save money on everything from restaurants to retail stores, spas, theaters and gyms. While deals offered on these sites can be a good bargain for a good or service, smartphone apps can also become unwanted traps that encourage unnecessary spending on goods and services we do not need or do not have time to use.
In the same way that we have become accustomed to mindlessly scrolling through our social media apps on our smartphones, retail apps expect that consumers will mindlessly thumb through their deals and spend money without thinking of their needs or the price. Many apps offer deals and flash sales with set time-constraints, hoping that consumers will act on anxiety about losing out on savings. These apps similarly exploit users' lack of attention, hoping that consumers will make impulse buys or won't read the fine print.
Today, these kinds of financial traps can be found in almost every kind of smartphone app. By playing on your emotions, apps can influence you to spend more than you really want — or need — to.
There are apps that exist solely to offer discounted goods and services that have a small window of time to redeem,. There are also those apps whose retailers run out of goods or cannot accommodate the number of new customers brought to their retail establishment by way of a deal on their site. Most retail apps for companies you already shop at offer online or in-app deals only, creating a feeling of getting a good deal on a product that you otherwise would not have purchased. You can even fall for the trap of unnecessary spending while reading a recipe by a food blogger who has attached affiliate links to products they recommend (they receive a small amount of money if you buy the product to which they have linked) within their recipe or DIY project.
Creating a Spending Plan
Making a shopping or spending plan that anticipates your actual needs helps to eliminate the impulsive desire to take advantage of a flash sale or daily deal on an app just because it is there. Knowing how much you have to spend on all your needs allows you to take a step back and remind yourself not to spend unwisely on goods or services that aren't necessary. It will also show you the difference between what you want and what just seems like a good deal at the time.
How CreditGUARD Can Help You
Creating a shopping and spending plan for each month based on your personal needs and your budgetary constraints can help you avoid unnecessary spending and stay on track of your finances. If you're currently behind on your credit card debt, you're not alone. You can find help for this at CreditGUARD. Our certified credit counselors have helped many thousands get out of credit card debt and stay that way. To learn more about our debt management program, call us today at 1-800-500-6489.