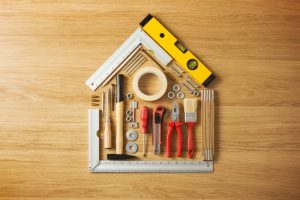 If you're even a little bit DIY-minded, there are plenty of little projects you can do to add value to your home without breaking the bank.
Before you get all gung ho about home improvements, it's a good idea to get a home inspection. Sure, it'll cost a little up front, but knowing what needs fixing is a valuable piece of information. Plus, you'd want to know if you had a termite infestation or if your roof needed replacing, both of which can add up big time.
Once you're aware of any major repairs you need, you can budget for them and then find otherwise to maximize home improvements within your remaining budget.
One easy way to add value to your home is to increase its curb appeal. An untended, un-landscaped yard can be a real deterrent for potential buyers. If your yard looks more like a desert than an oasis, consider making a few changes that will create a more verdant facade to your home.
You could add sod to remedy weedy or spotty patches of grass.

Go green. Consider planting trees or shrubs that are easy to maintain.
Painting your interiors is an easy way to give your home a fresh, updated feel without spending big money on remodeling. Opt for neutral colors that create a clean, spacious feel.
An attractive home is a pleasure to live in, and it's easier to sell. Deep cleaning is a great way to clear out the cobwebs and enhance your home's aesthetic appeal. (It also feels good to have a spotless home!)
Another way to cut your personal monthly cost is by adding a water filtration system. No need to buy bottled water! This easy DIY addition will pay for itself by saving you money on water. Usually, installing these is easy enough, so you can do it yourself and save on the installation cost.
If you can afford the initial investment, go with solar panels on your roof. This one is less DIY and more added value–you'll save on energy costs over the longer term and potential buyers are looking for homes with power saving green energy perks.
Chances are, your power company may offer a free energy audit- take them up on it. You can learn more ways to save on your energy costs. One easy way is to get rid of old incandescent light bulbs if you still have any, opting for new, energy-efficient bulbs that have longer lifespans. Additionally, updating your insulation is easy and inexpensive and will lower your energy costs.
When it comes to remodeling, the kitchen is numero uno. One easy DIY addition is converting that plain painted backsplash to a tile backsplash. If you set the tile yourself, you're only out some time and the cost of the materials. The result? A beautiful accent to your kitchen that really adds value.
You can update your bathroom without spending a ton of money. Consider changing out that old wallpaper and vinyl flooring, opting for a fresh look on the walls. Adding tile flooring may be a more labor intensive than most in terms of DIY projects, but this one can definitely increase your home's value and visual appeal.          
If you ask a realtor for advice on getting ready to sell your home, it's likely that they'll tell you to stage your home for the sale. This means clearing the clutter, arranging the furniture to open up rooms, updating the art on your walls, and making the space less personal (taking down family photos, etc) to make the home more attractive to buyers. Whether you're looking to sell or not, stage your home. Inventory your stuff, make your spaces open and beautiful, and rearrange your space so that it's clutter-free and inviting.
If you're interested in more ways to save money including educational articles on budgeting, getting out of debt and better managing your finances, visit CreditGUARD of America to learn more and to speak with a certified credit counselor.